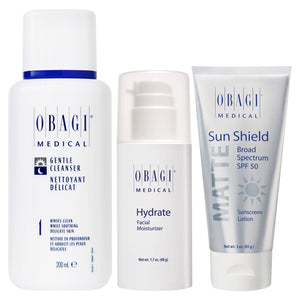 Obagi Repair Foundation Kit
Regular price
Sale price
£152.00
Tax included.
Free Shipping
---
The Obagi Repair Foundation Kit is a must have for delicate complexions. The kit has been designed to cleanse, hydrate and soothe, perfect for providing relief to those with conditions such eczema, rosacea and psoriasis. The Obagi Repair Foundation kit contains three full size products:
The first step in the Obagi Nu-Derm System for dry, sensitive skin.
This mild facial cleanser gently removes impurities, oil and makeup to leave skin feeling smooth and fresh.
The Obagi Nu-Derm Gentle Cleanser has been formulated for dry or sensitive skin to help eliminate oil, dirt and other debris so the skin has been prepared for the next step in the Nu-Derm System. Make this cleanser the first step in your Obagi Nu-Derm regimen or use it alone as part of your dry skin care routine.
Benefits:
Hydrates and balances dry and itchy skin.
Gentle removes dirt, oil, makeup and impurities.
Soothing, lightweight gel formula.
Designed for normal, dry or sensitive skin.
The gentle ingredients include apricot kernel oil and Glycerin.
The Obagi Hydrate Facial Moisturizer from the pioneering Obagi Nu-Derm System is an innovative moisturiser designed to combat the signs of ageing. With particular potency at reducing fine lines, wrinkles and crow's feet this high-quality product from Obagi Medical will improve your skin's appearance whilst leaving it feeling healthy and hydrated.
Non-irritating, non-sensitizing and allergy-tested formula.
Provides all-day hydration.
Suitable for all skin types.
Obagi Matte Sun Shield Broad Spectrum SPF 50
Shield your visage from the harsh rays of the sun with Obagi's 'Sun Shield' sun cream. Lightweight and with an airy texture, the formula drifts effortlessly across your skin, absorbing fast to avoid the dreaded sticky, greasy residue that sunscreens often leave. Boosted with optimum UVA and UVB protection, you can be safe in the knowledge that your base is being defended from the damage of harsh external aggressors.
A matte finish makes the formula ideal for people that are prone to excessively oily skin, offering a healthy, radiant glow, despite seeming sheer during the application process. Finished with a fragrance-free feature, allowing the sun cream to be suitable for sensitive skin.